On the big wide planet Earth, out of many different worms, if there is a worm that no one hates, it's the 'Book-worm.' Do you have children in your house, who every time you take them out, or every time you ask them for what gifts they want, ask for books only?
Or just the opposite, kids who, despite having a big library of books, never seem to pick one? In either case, what we are about to tell you will help your situation.
Kids books subscription boxes. Your child's next favorite thing. As many people wrongly assume, kids' book subscription boxes are not a way to spoil your child with too much fancy stuff but rather a habit that will keep your child well-read, curious, and in the habit of reading.
However, not all book subscription boxes are worth your money and your child's time.
Therefore, to give you a comprehensive insight into which kids' book subscription boxes to check out, this blog is here with these top kids' book subscription boxes, all in one place.
The Best Kids Book Subscription Boxes

The Bookroo book box arrives like a monthly present for your child in a bright teal-colored box with a cute paper ribbon. These kids' book subscription boxes are focused on bringing in kids from 0 to 12 to get into the habit of regular reading.
Bookroo functions its subscriptions in the form of clubs, such as the board book club, the picture book club, the junior chapter book club, and the middle-grade book club.
It is arranged as per the age, with the board book club offering books for kids from ages 0-3 and the middle-grade book club catering to kids from ages 9-12 (pre-teens).
Each club includes books chosen for the child's age and focuses on their accepted cognitive level. For instance, the board book club contains more basic concepts and simple stories, whereas the middle-grade book club offers more complex storybooks.
One thing to note is that Bookroo is strictly a books-only box without merchandise.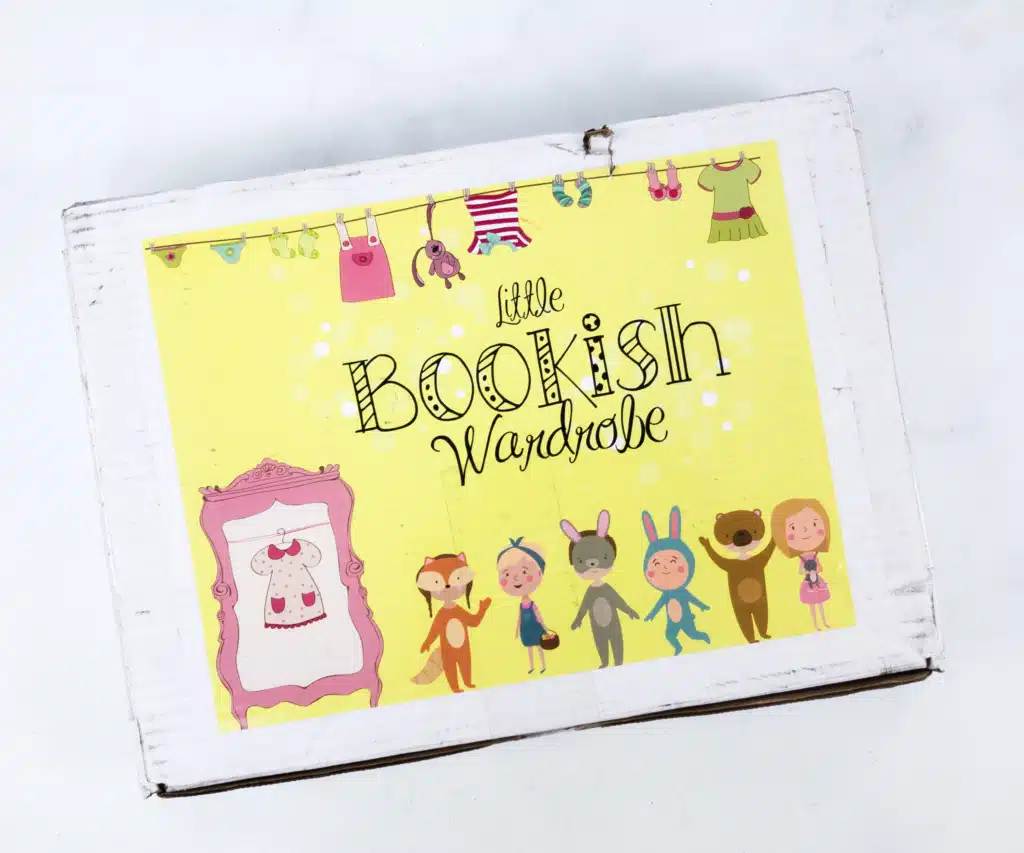 Before revealing what's in this kid's book subscription box, guess what could be the special feature of this box. Right! The name of this book box is a huge giver.
As the title suggests, its unique feature is that this book box offers themed outfits or accessories per the box theme. This ensures that your child is not only excited to read the tale but also enact it by dressing in the same outfit as the hero of the story.
Plus, that makes a great addition to your child's photo album.
The little bookish wardrobe box includes one hardcover book with two to three corresponding outfits. This kid's book box comes in different categories, namely, a girl box, a boy box, a girl twinning box, a boy twinning box, and a sibling box.
The little bookish wardrobe kids book subscription allows the users to subscribe on a month-on-month basic, quarterly basic, twice-a-year basis, and even annual subscription.

This kid's book subscription box called Tiny Human Read is similar to the box we discussed above.
With the same subscription forms, i.e., board book, picture book, etc., and even similar subscription schedules, month-on-month basic, quarterly basic, twice-a-year basis, and even annual subscription.
However, the only difference is that the book box contains more silly, whimsical stories, which offer a nice chuckle (laugh) to your little one while teaching them a valuable life lesson.
No wonder this book subscription box's main focus age group is children from 0 to 8 years old.

That's nice wordplay there! (cue: The Great Expectations – Charles Dickens) As its name suggests, the crate expectations kids book subscription box comes with many of your expectations fulfilled.
This book box is primarily curated for children 8 years to 12 years.
The box contains one chapter book, but other than that; it offers a myriad of additions, such as STEM activity, adventure guide, book-related recipes, author interviews, further similar book recommendations, discussion questions, and writing challenges.
Moreover, it includes an event planning menu and guide to host your little book club meetings. Interesting right? This book box can be ordered monthly, every three months, and even twice a year.

Now, it suggests a sense of security of investment and quality of products.
Amazon is one of the largest book-selling platforms and hence comes with a 100% guarantee to offer new titles to your child every time they open their book box mail.
The Amazon Prime Book box offers books in four categories, i.e., Ages 0-2, Ages 3-5, Ages 6-8, and Ages 9-12. And guess what!
The best part of this subscription box is not just the handpicked best children's books but also the fact that subscribers get these books flat 35% off the listed price.

The Reading Bug kid's book subscription box is a personalized book box similar to the kid-curated box mentioned above. This book box focuses on building a reading habit in children from 0 to 13 years old.
The subscribers (children or their parents) are provided with a guide initially to make them understand the kind of books they would want the reading bug box to send in every mail.
This ensures a satisfactory delivery of the book box.

The Jambo book club is a kind of kid's book subscription box. It features books for kids from 0 to 6 years of age.
The special part of this book box is that it contains stories featuring multicultural characters, introducing kids to different cultures at an early age.
The book box contains two books in each mail, with modern-day stories featuring real-life character arcs. Reading books from this box can feel like making new friends in every story for your child.
This company allows subscribers to opt for monthly, quarterly, or annual box subscriptions.

The founder of 'My First Reading Club Kids Book Subscription Box' has said that starting this box was to improve my passion for literacy.
Every book box contains three or even four books with hardbound covers, activity books related to the book genres in the box, and a very special gift for mom. After all, every child is so attached to their mothers.
This book box's target age group is kids from 0 to 12 years old. The books in this box are hardcover with richly detailed and colorful illustrations to entice your child into actually wanting to read the book.
Plus, the mommy gift is a unique, small step by the founders to repay moms for their silent, loving, hard work.

This kid's book subscription box is not just a book box but an initiative to help parents get their children into reading, writing, and making cognitive observations.
This book box contains two children's books and unique guides for parents to help their kids achieve good levels of communication, pre-literacy, and cognitive aptitude.
This book box ensures that the child gets ready for school in their early stages without going through long classroom hours. Fun is mixed with learning.
The story box book subscription boxes come in monthly, quarterly, and twice-a-year subscription options.
An Overview: Kids Book Subscription Boxes
Back then, buying the kids a book was a present, but with changing times, buying a book alone might not make your child jump up with joy.
So, kids' book subscription boxes are the innovation that can sort this situation out. Kids' book subscription boxes contain more than just books.
Firstly, the book boxes are customizable per your child's age, gender, and preferences.
So if you have a toddler, the kid's book subscription boxes might contain more fun picture books or rhymes, etc; if your child is a growing teenager, they might get some interesting new genres to explore.
Secondly, kid's book subscription boxes contain plenty of goodies and themed merchandise along with books.
So, every time a new book box arrives in your mailbox, your child will be thrilled to open it and ultimately check out the book's contents.
Also, getting supplementary goodies, merch, and books will make you feel like your money was well spent.
Benefits of Subscribing to Book Boxes
We discussed a few of them above in our discussion. So, here's an exclusive list of advantages that kids' book subscription boxes offer to your child:
It releases you and your child from the hassle of picking a new (and good) book every time. Someone else does that for you!
It ensures your child gets a taste of all the different genres, expanding their knowledge of the world of literature.
There are certain festive-themed or rare collective boxes as well that give an edge to the reading experience. For instance, the Halloween-themed kid's book subscription box or the Harry Potter-themed one.
Getting kids book subscription boxes at a fixed time during a month helps develop a habit of patience and curiosity in your child, ultimately leading to greater cognitive development.
Things to Consider Before Finalising a Book Box
Now, this step is really important. Below are some ways to make sure your subscription is safe and correct:
Always check the cost or price breakdown on the invoice. This will ensure you won't pay more shipping costs than the whole subscription.
If you can be sure that your child or yourself can build that habit of reading, try to buy multiple months in advance. This costs less than buying every month. And most kid's book subscription boxes also offer good discounts on pre-orders.
Keep track of all the types of sales and discounts that the company rolls out to ensure you can benefit from them.
Always ask for the cancellation policy before subscribing.
Research all the company's themes, ensuring your child doesn't get stuck on a specific genre. The idea of kids' book subscription boxes is to keep your child intrigued.
Conclusion
These kids' book subscription boxes are something not to miss out on if you have growing children at your home. You can ask your child to pick their favorite book box. This way, they'll be more connected with the experience.
Also, one of the most important things to mention here is that shuffling around with kids' book subscription box services is always a nice idea.
One sneaky rule is that the more you shuffle around, the better the next book box company will try to upscale their services to please you and your kid, which is a bonus.